Signing the Golden Book of the City of Montreal in St-Henri, January 14,2019, in recognition of 21+ years operating the Point Web site.

I wish to thank Craig Sauvé, Mayor Benoit Dorais and the City administration for honoring me and the Point website, as a community asset that reported news and events of the area for these many years.

While not mentioned at the occasion, it should be noted that in the early years of the Point site, my dear friend Wesley Dryden, assisted me greatly and for which I am most thankful to say the least. Not having much time to speak that evening I was not able to bring out the timeline and development of  thepoint.ca.,in order to mention Wesley' contribution. Sorry about that.

George.


LtoR:  CRAIG SAUVE., Geo. McRae

Mayor BENOIT DORAIS


Photo and Video Clips: Tracey McCunn



Now 82 years old, George McRae has spent his life in Pointe Saint Charles. Even today, he continues to honour his neighbourhood which he has seen evolve over the years with his website, thepoint.ca which he started 22 years ago. His involvement in the community has given him a wealth of knowledge and perspective on the southwest borough.

"It's difficult to not love Pointe Saint Charles, says the octogenarian. It's hard to describe the feelings and sentiments that one can have about this area. When I talk to someone who has also grown up and lived here, I feel like I am talking to family."

His love for the Point is demonstrated by the time and energy he has devoted daily since the inception of his website. 

Thepoint.ca shows a portrait of life in the Point, whether that be baseball games, shows and plays, school events or just simply the day to day activities of people who cross paths with Mr. McRae. 

The Beginnings:

The idea of creating a website began at the time of his retirement when he was looking for a way to give back to the community. "I did not know exactly how to go about it, but I started going to different events taking videos and pictures, he explains. That's how it began."

Quickly, the site became popular with the residents of the Point. As such, Mr. McRae asked his friend, Wesley Dryden, to assist him with the site.

By 2005, the website had more than 1.2 million visitors, many of whom also contributed to the content. Over the years, the numbers have dropped mainly due to the many more social media outlets and websites that are available.

"I don't have as much energy as I used to, so it has become a bit more difficult to document everything, he states. But, I continue to do as much as I can."

Evolution:

When he walks the streets of the Point today, George McRae doesn't see a lot of the Point of his youth. "I don't see too many people outside talking. Kids used to play hockey in the streets. We were very poor but didn't realize it or let it affect us. Nowadays it is mainly families who appear to be better off financially than we were. "

All these changes are not necessarily bad, as Mr. McRae believes the area has never looked better. "But, there does not appear to be that neighbourly feeling amongst many residents. Even if it is safer nowadays with the disappearance of the prostitutes and drug problems, I would still not leave my door unlocked as we used to do when I was young."

The memories of Pointe Saint Charles will forever be available on his website, 

 thepoint.ca. 

ENGLISH VERSION of Voix Pop Article.

Translated by: Dean McCunn


Bleury  and St- Catherine   1950s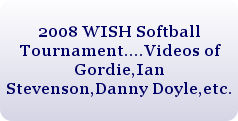 SEVILLE THEATRE,  St-Catherine & 'BETWEEN' Closse and Chomedey.  1953.

Ref: Dean McCunn

NBC Radio Live Broadcast, July 1, 1952

Seville Theatre Montreal

Garland Terminus. # 17 Tram About to Head South, Downtown. 

Dean McCunn